One more day trip during winter break when we were able to use one of our membership cards (the art museum's free, however):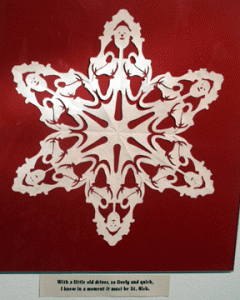 Imagination Station: The special stuff going on when we went there were a gingerbread exhibition (by culinary students), an amazing paper snowflake display (a man nicknamed "Dr. Snowflake" created snowflakes that go along with the whole "Night before Christmas" poem) and the traveling Hubble Telescope exhibit. The museum was packed and you couldn't get to a lot of the hands-on activities. Also, a quick trip through the Hubble Telescope exhibit didn't grab our attention. But … there was still plenty of fun stuff to do and I made the kids leave before they were ready because I wanted to get to the Toledo Museum of Art before it closed.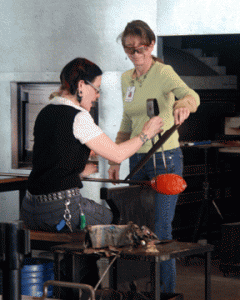 Toledo Museum of Art: We only had 1-1/2 hours here before it closed at 4. Time enough for the kids to make "netsuke" miniature clay faces, in conjunction with the current exhibit, and view the amazing 40-minute glass blowing demo. It's almost worth the drive to Toledo just to see that! My husband was mesmerized — and he's VERY hard to impress. We also got to see a Van Gogh, which is always fun. We definitely have to make this the first stop on our next trip to Toledo!