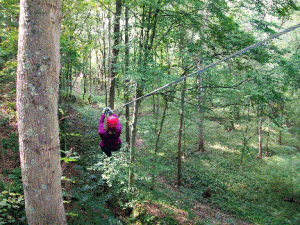 Looking for an adventure? Consider the Hocking Hills Canopy Tours, billed as "Ohio's First World-Class Zip-Line Adventure". If you've ever been to Hocking Hills, in Southeast Ohio, you know how magnificent the area is. If you do the canopy tour (open April through November), you'll get a whole new perspective. The tours just opened in 2008 but were already voted USA Today's "Hottest New Attraction in Ohio". It's not cheap, up to $85 per person for the 3-hour excursion from last year's $75. But my husband was celebrating a "milestone" birthday last year and I thought it would be a perfect way to make a statement about getting older.
I have to say the operation is extremely well-run and the two guides were excellent — knowledgeable, passionate about their jobs and very patient. I will also say, quite frankly, that I wasn't as up to the challenge as I thought I'd be. You know how in every group there's that one person who just doesn't quite "get it" and slows the rest of the group down? Well in a group of 8 where four were retirees(!) guess who that person was? Yes, me. They have a practice "zip" before you do the real thing and guess who had to do it three times before they could do it right. Yes, me again. Guess who practically knocked a tree (as well as a guide) down because they didn't see the "slow down" signal of the tour guide?  Yes, yes, it was me.
I was really a bit freaked out by the whole thing. The actual "zipping" was very cool and I could feel a smile on my face as I flew through the trees as fast as 40 mph. That part was really, really fun. But every time before I was pushed off the ledge I was thinking, "I have three kids at home. Do I really need to be doing this? What's wrong with me?" I'm usually pretty fearless, so I was pretty unnverved both by the experience as well as my feelings.
But the point is, I did it and I'm glad I did. Would I recommend you do it? Sure. It really is a cool thing to do, if you are looking for something different and can afford it. Will I be doing it again? Uh, I don't think so.