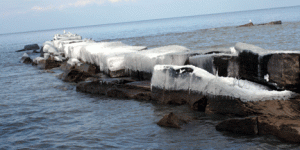 The five of us were out and about yesterday taking advantage of these four free activities:
1) Handfeeding the chickadees at Brecksville Nature Center. I think it's every Sat. and Sun. in Jan. and Feb. from 10-12. Sunflower seeds are provided.
2) Lake Erie Nature Center in Bay Village.
3) Huntington Beach in Bay Village. My youngest daughter and I picked up beach glass while my other daughter, son and husband knocked icicles off the rocks. It's the first time we've taken the kids to a Lake Erie beach in winter. The lake's not frozen over, so dodging waves added to the fun.
4) Sled riding. The last time I went sled riding was about 12 years ago with my then-boyfriend (now husband). We took a spill and he landed on me. My thigh was bruised for four years, I swear. I had no interest in going again, so my husband's been taking the kids by himself for the last couple years. But for some reason I decided it was time to try again. I have to admit I was terrified that while riding down the hill in the same sled as my daughter we would tip and I would crush her. Fortunately, that didn't happen, nor did I mess up my still-mending ankle (whew!).
Fun, I like. Free AND fun, I love!